ANDREW CHOO MAIL ORDER EXAM TIPS
2019 UPSR / PT3 (PT3) / SPM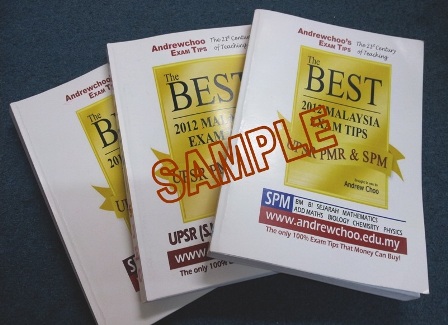 *Once we receive your order with payment, we will send confirmation SMS to your H/P number.


*If no SMS received within 2 days, please contact us at 012-3260392 or 03-77839924.
The book is specially written for UPSR / PT3 (PT3) / SPM exam candidates preparing themselves for their examinations. What you will find in this book: Important study notes, forecast questions & completed answers.
Our past results are extremely fantastic and the exam tips is getting better and more accurate than ever before.
What Parents Say
"Thank you, Andrew Choo. Your mail order tips really helpful".
"I feel a lot more confident as a parent and my son knows what is the most
important chapters to study. Finally, he got straight A's in his exams.Thank you."
Andrew Choo Tips Peperiksaan Malaysia
UPSR / PT3 (PT3) / SPM TIPS.
The 1st Exam Tips Provider In Malaysia.

Get the Exam TIPS with answers and notes.
Hurry order now before the price going up again!
Tagged as: Andrew Choo, exam tips, pmr, pt3, spm, TIP PEPERIKSAAN, upsr